Introduction

The Security Manager in RPOS7 provides features which enables you to control and manage the security options, various configurations and settings of the users. It allows you to configure user-based menu settings and assign or restrict certain privileges to the users based on the needs.



In simpler terms, the Security Manager provides security for data and

helps in controlling and managing the security of data and transactions

by providing authentication to the selected users.

There are also provisions to add new users from admin login, create a login for the new users and enable them to make the transactions.

Steps for Security Manager
1. Click Tools >> Configuration >> Security Manager. The Security Manager screen is displayed.




2. Click the Settings button. The list of settings options is displayed.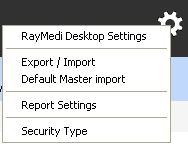 The various settings configurable in the Security Manager includes:

1. Raymedi Desktop Settings - To set up a desktop specific to a Raymedi user with restricted menus. The admin user can customize few applications as visible and accessible for the users and the user is restricted to use certain other default menus. It acts as a mask for the windows desktop and helps improve the productivity of the user by preventing them from accessing unnecessary applications.

But, only administrator can exit the Raymedi desktop. For details,

click here

2. Export/Import - To export the configuration settings from one outlet and to import the same in other outlets. For details, click here

3. Default Master Import - To import the default masters when the users skip the 'Default Master Import' at the time of installation. For details, click here

4. Report Settings - To enable or disable certain configurations in reports and to set a password for protecting the configurations. For details, click here

5. Security Type - To configure individual-based and group/role-based settings

Adding a new user or group

Menu settings configuration for the new user or group
For more details on the above, click the links below:


Note: Raymedi Desktop will not be supported in Windows 8 and above.

For FAQs: click here